Hiking Forest Park, Portland, Oregon
3 min read
Today I decided to walk a couple of miles to a trailhead into Forest Park that can be reached by taking NW Thurman Street all the way to the end. I had been to the trailhead before intending to come back to hike the trails. That was a year ago. Well, I'm glad I finally hiked a couple of miles of the trail today and will probably make that hike a part of a daily routine that I had gotten away from in the last year. I use to do a lot of urban walking for exercise and with the pounds I have put on during the Coronavirus epidemic, it's high time I get back into some form of exercise even if it is just walking or hiking, as I very much enjoy doing both and with the little bit I saw today while on the hike, I very much look forward to going back and exploring a little more in the coming days and weeks. As you can see from the picture above, Leif Erickson Drive, Wildwood Trail, and Dogwood Trail comprise the main loop of the main trail with some offshoots and cut-throughs interspersed here and there as you hike the trail. Leif Erickson Drive looked to at some point may have been some kind of back wood thoroughfare but it's completely closed off to vehicle traffic and if I were to venture a guess, I would say landslide risk, but only a guess. By the way, all the pictures in today's article were taken by me while on the hike.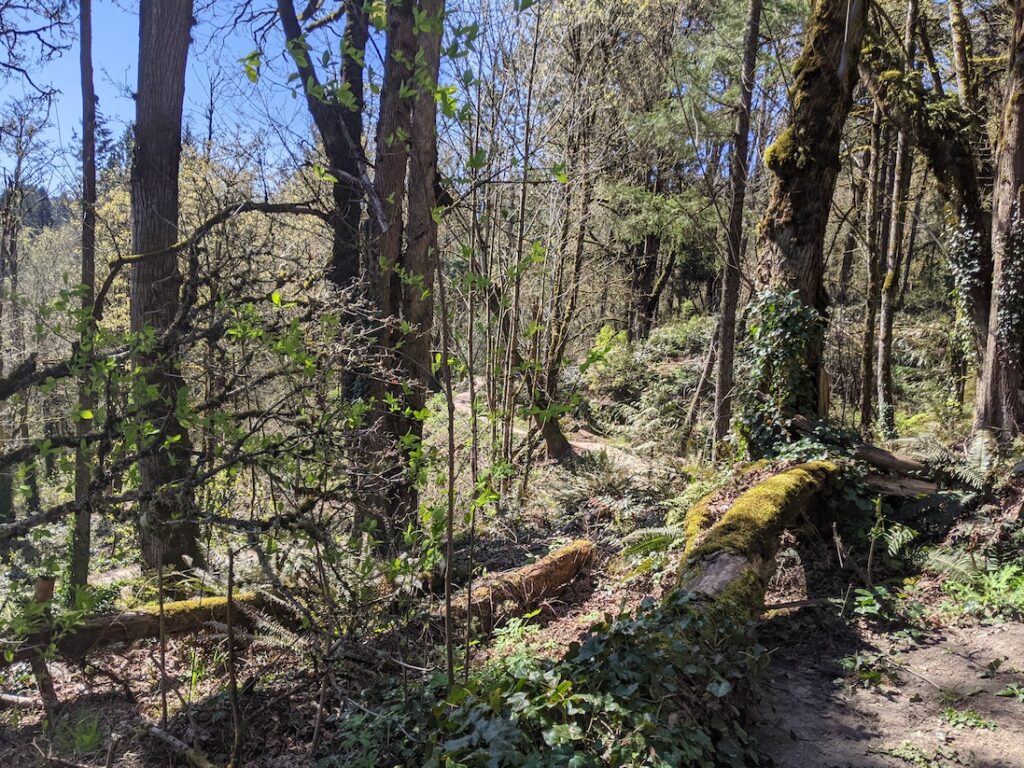 Spring time in Portland is great but I don't look forward to the 90 degree plus days which will surely be coming this summer. And as is if on cue, my main fan which is near my bed and window for circulation decided it no longer wanted to work and crapped out today. I do have another box fan on the other side of the room but it serves a different purpose and unless I want to be miserable this summer, I'm going to need to find a replacement for the fan. The building I live in does offer air conditioning in the room and apartments during the summer, for an additional equipment rental plus monthly electrical premium, which more likely than not I won't be taking advantage of. But of course spring weather does make for good hiking weather before it gets too hot. I may pack a backpack and set out @530am one morning and possibly explore one of paths/trails which heads off northwest towards Scappoose. I think Scappoose is a good 30 miles off but to be honest without looking it up I'm just not sure of the distance. I definitely don't plan on hiking that kind of distance any time soon but who knows with a summer or two of conditioning…
So, Spring is here, summer is coming, the world is opening back up slowly but surely and another year is upon to challenge our senses and grow both physically and intellectually as we avidly await what fate brings us this year, 2021.