Cheap Breakfast, Portland, Oregon $4 – Marthon Taverna @ W. Burnside & 18th
2 min read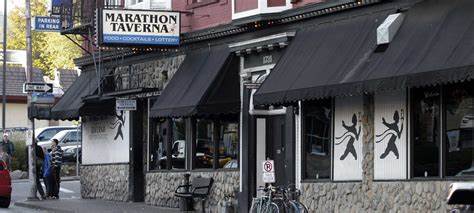 I live above a tavern in Portland, Oregon named Marathon Taverna. Located in Northwest Portland on W. Burnside St. at 18th. It's owned by a Greek family and though it's your standard sports bar ringed with TV's and regulars it's clean and the place I have breakfast a few times a week. The bar itself is very spacious with full ring bar, the video poker section, and a larger area in the back with 3 pool tables, darts, a pinball machine and video Moosehunt or something similar.
I personally am not a big drinker but they have like 6-8 beers on tap, including Guinness, and a full selection of well drinks, including some of the better scotch that I prefer, namely 12 year old Glenlivet or Macallan's. Plus I noticed they have a few different brands of cheap canned pub beer which I imagine (guess) is the bottom of the barrel supply (meaning cheap). But that's not what I go to the Marathona Taverna for. I go there for the simple cheap breakfast.
2 Slices of Sourdough Bread
2 Eggs (I prefer them over easy)
2 Slices of Bacon or 2 Sausage Links (I prefer the bacon)
or
Biscuits & Gravy (2 biscuits with a generous portion of gravy)
2 Eggs (I prefer them scrambled for this this)
There's a name for them but I always get them wrong so I just order it just the way I have it listed above. It was $3 for the breakfast up until this week (8.7.2021) when it was raised $1 to $4. Sure, kind of a bummer, but it's still cheap and it's a basic breakfast that will get you going in the morning, help in nursing that hangover from last night, or if you're just simply hungry for breakfast and just want that quick basic meal. I usually add a coffee and sometimes a Sprite if I'm thirsty and those will add $1 and $1.50 respectively. So with tip my total usually comes out to $6 or $7.
Marathon Taverna opens up at 7am rain or shine (barring pandemics) and serves that cheap breakfast all day and all night, though at times when they have heavier than usual traffic, usually on nights that coincide with a Portland Timbers soccer match, they will stop serving the the $4 breakfast and move to their 'gameday' menu, which has but a few choices for appetizers and entree's; I like the Fish and Chips, sometimes I'll have one of their Gyro's or if I'm really hungry I'll order one of their beefy cheeseburgers.
So if your find yourself in Northwest Portland some morning and are looking for a cheap and tasty breakfast, you can't go wrong with the $4 breakfast deals at Marathon Taverna.
Please visit my Patreon page if you're so inclined or make a donation. Or you can click the coffee cup in the bottom right corner of the screen and Buy Me A Coffee. Thank you!