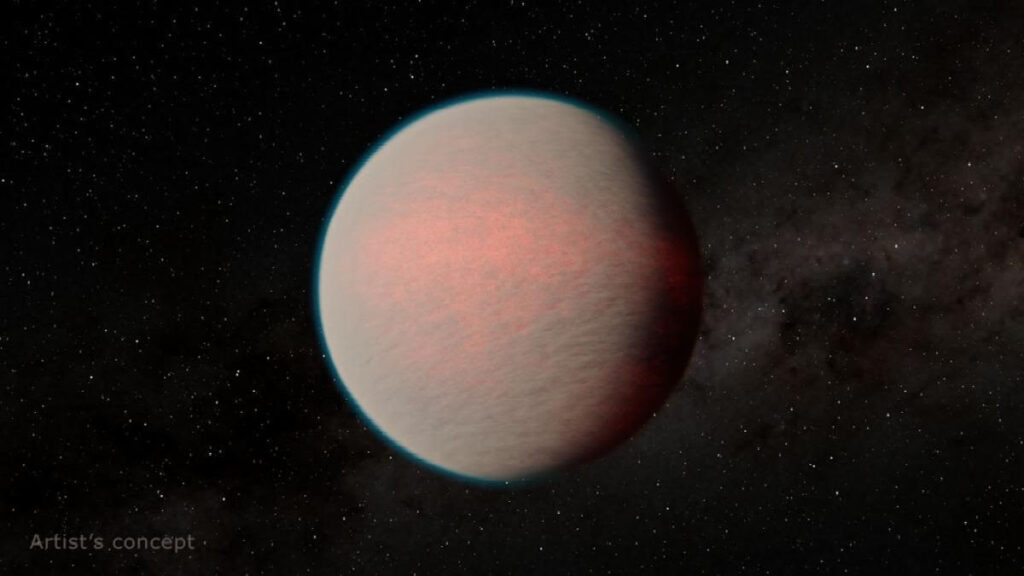 Mini Neptune
The James Webb Space Telescope has observed a distant planet outside our solar system to reveal what is likely a highly reflective world with a steamy atmosphere. And while the planet is hot by human standards, it is much cooler than expected. That's because its unusually shiny atmosphere reflects a large fraction of the light from its parent star rather than absorbing it and growing hotter.
The new observations could open the door to deeper knowledge of a planet type shrouded in uncertainty. Mini-Neptunes are the most common type of planet in the galaxy, but mysterious to us because they don't occur in our solar system. Measurements so far show they are broadly similar to, say, a downsized version of our own Neptune.
Further observations will be needed to pin down more details about the planet as well as the formation histories of other planets in the mini-Neptune class.
| | |
| --- | --- |
| First Pair of Storm Observing Satellites Launched – Two shoebox-sized satellites designed to study tropical cyclones, including hurricanes and typhoons, are in orbit after successfully launching Sunday, May 7. TROPICS (Time-Resolved Observations of Precipitation structure and storm Intensity with a Constellation of Smallsats) is a constellation of four identical CubeSats designed to observe tropical cyclones in a unique, inclined low Earth orbit over Earth's tropics – an orbit that allows them to travel over any given storm about once an hour. Current weather tracking satellites have a timing of about once every six hoursLearn More | Rethinking Mars' Watery Environments – New images taken by the Perseverance rover may show signs of what once a rollicking river on Mars, one that was deeper and faster-moving than scientists have ever seen evidence for in the past. The river was part of a network of waterways that flowed into Jezero Crater, the area the rover has been exploring since landing more than two years ago.Learn More |
| | |
| --- | --- |
| Two Space Pioneers Inducted into Astronaut Hall of Fame – Former astronauts Roy D. Bridges Jr. and Senator Mark E. Kelly were inducted into the U.S. Astronaut Hall of Fame during a ceremony inside the Space Shuttle Atlantis attraction at NASA's Kennedy Space Center Visitor Complex in Florida on Saturday, May 6. To be eligible an astronaut must have made their flight at least 17 years before the induction, be a U.S. citizen, and be a NASA-trained commander, pilot, or mission specialist who has orbited Earth at least once.Learn More | |
NASA astronaut Stephen Bowen and United Arab Emirates astronaut Sultan Alneyadi (partially obscured) are pictured , exiting the International Space Station's Quest airlock and beginning a spacewalk. The duo would spend seven hours and one minute in the vacuum of space routing cables and installing insulation readying the orbital outpost for its next set of roll-out solar arrays due to be installed after their delivery on the next SpaceX Dragon cargo mission